♪
New solo album:
LISZT Transcriptions

. Maciej Gański piano.

Price of 1 CD: 9 euro + shipping costs. Possible personal dedication.
For order please write at: luxuryartm@gmail.com
R. Wagner/F. Liszt – Concert paraphrase on the Overture to Tannhäuser


R. Wagner/F. Liszt – Recitative and Romans O du mein holder Abendstern from Tannhäuser


R. Schumann/F. Liszt – Liebeslied (Widmung)
4-9. F. Chopin/F. Liszt – Six chants polonais:


No. 1. Mädchens Wunsch (The Maiden's Wish)

No. 2. Frühling (Spring)

No. 3. Das Ringlein (The Ring)

No. 4. Bacchanal (Merrymaking)

No. 5. Meine Freuden (My joy)

No. 6. Die Heimkehr (Homeward)

F. Schubert/F. Liszt – Gretchen am Spinnrade


F. Schubert/F. Liszt – Du bist die Ruh


A. Alabjew/F. Liszt – Le rossignol (Nightingale)

R. Wagner/F. Liszt – Isoldes Liebestod from Tristan und Isolde


J. Arcadelt/P.-L. Dietsch/F. Liszt – Ave Maria
♪
Maciej Gański & Artis in Prabuty (Poland).
♪
In March 2016 Maciej Ganski recorded pieces of F. Chopin. The recordings were produced by Lukasz Michalski from Customtrack.pl company.
You can listen it here:

F. Chopin - Etude in C minor op. 10 nr 12
F. Chopin - Polonaise in A flat major op. 53

♪
Concert organised by Consulate General of the Republic of Poland in Brest (Belarus).
♪
Consul General of The People's Republic of China in Gdansk,
Liu Yuanyuan
, invited Maciej Ganski to play in Baltic Opera in Gdansk at the Concert on the occasion of the 66th anniversary of the Polish-Chinese cooperation (23.11.2015).
♪
Thanks to Maciej Ganski from the Rector of the University of Gdansk Prof. Dr hab. Bernard Lammek, for taking part in the concerts in Palace in Lezno (2015):
♪
Thanks to Maciej Ganski from Ks. Jedrzej Orlowski, Director of the Father Dutkiewicz Hospice, for playing Christmas Concert:
♪
Ambassador Extraordinary and Plenipotentiary of the Republic of Moldova in the Republic of Poland, Iurie Bodrug, Honorary Consul of the Republic of Moldova, Maciej Bukowski and Director of Elblag Chamber Orchestra, Bozena Sielewicz, invited Maciej Gański to play in The Old Town City Hall in Elblag at the Opening Ceremony of the Honorary Consulate
of the Republic of Moldova (20.01.2015).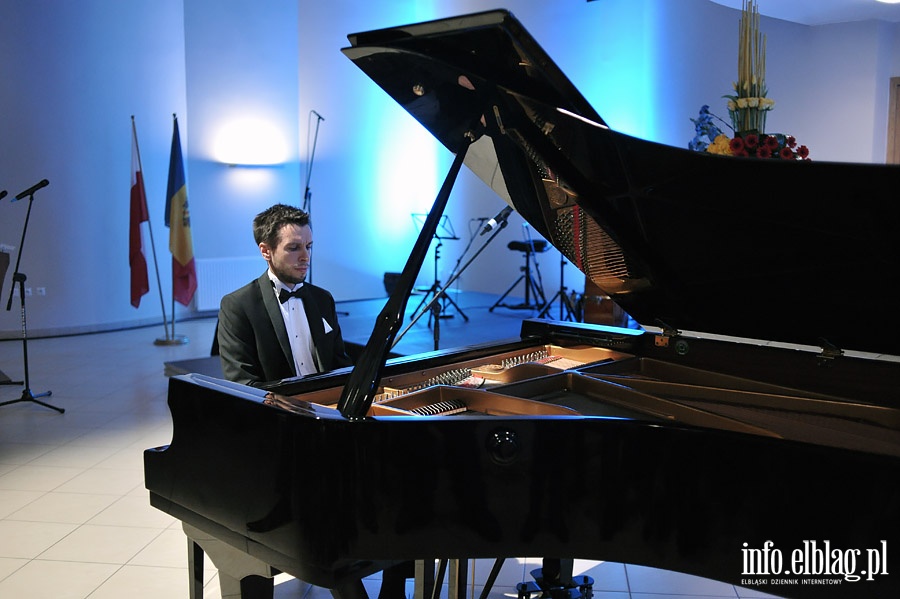 fot. Adrian Sajko
♪

Maciej Ganski recorded Boarding Music for Eurolot
"Flight of dreams", a song composed by Piotr Jędrzejczyk, from July will sound on all flights of Eurolot. The new boarding music (songs played when passengers enter and leave aircrafts) has been selected in a contest organised by the Polish carrier.
Five songs were selected for the final of the contest from the numerous entries. Composition of the winner was recorded in a professional studio by renowned pianist Maciej Ganski, and it is his rendition that will from now on be played on boards of Eurolot's Bombardier Q400 aircrafts.
Click here to listen to "Flight of dreams"
♪
Maciej Ganski announced new CD: Antoni Rutkowski - Piano Trio op.13, Violin Sonata op. 5
Piano Trio op. 13 - Maciej Gański, Paweł Kukliński, Tadeusz Samerek

Click here to buy CD.